Snack Gaming Develop & Launch New Fantasy Betting Platform 5p0rtz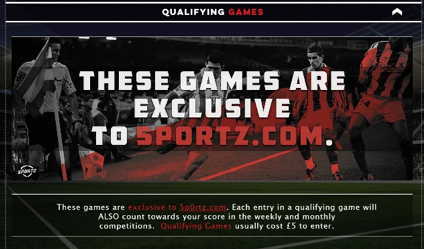 Fantasy Sports and Digital Product developers Snack-Gaming announced that they have developed and launched '5p0rtz' a new fantasy pools betting platform on behalf of a consortium of UK based sports betting investors.
5p0rtz aims to redefine sports and gambling, allowing players to place lower stakes with bigger jackpots at a much higher win probability than any bookmaker. The business aims to be the UK market leader in fantasy sports by 2019.
Snack-Gaming undertook the design and development of the game for UK holding company, Trillionaire ltd, which is made up of a consortium of UK based sports betting investors. Sports Digital Publisher & Fan engagements experts, Snack-Media will oversee the launch and marketing of the campaign.
5p0rtz soft launched the platform with a freeroll pick six £1m Grand National game which has been followed up by another £1m freeroll game focusing on the Football World Cup. During the World Cup there are daily games which give a better cash payout than other bookmakers but 5p0rtz also has a fantasy element where players can earn points which display on weekly and monthly leader boards.
Snack Media will undertake a tailored digital and social campaign comprising of social media management, influencer outreach, activations overview, bespoke sponsored editorial and ad ops over the next nine months aiming to boost brand awareness and increase the number of users signed up to play the company's innovative pool games.
Snack-Gaming, Co-Founder, Rupert Pratt commented 'Developing a live fantasy pools betting product is complex and it's been fantastic to take a unique concept and idea through to design, full enterprise development and build.
Snack-Media Co-Founder and CEO, Niall Coen, added 'When we were approached to work with 5p0rtz it was an easy decision for us. Their type of gaming is practically unheard of in the UK market and we're confident that they will thrive. We've got the resources to help get their name out to sports fans everywhere so, alongside the great work that Snack Gaming have done for them, this was a perfect combination to launch their product.
Sp0rtz also sponsored the Best Gambling Football Blog Award at the Football Blogging Awards at Alexandra Palace on 17th May 2018.
For more information please contact Rupert Pratt, Co-Founder,
rupert@snack-media.com
m:+44 (0) 7958 039 816 t: +44 (0) 20 7272 7582
www.snack-gaming.com www.snack-media.com
Snack Media are a digital sports publisher with access to 26m+ sports fans across across our network of 300+ platforms.
Snack Gaming specialise in design, delivery and management of digital activation products e.g. white label Fantasy Sports Games, Predictor Games, Quizzes, Opinion Polls, Fan Surveys etc
We work with brands, broadcasters, rights holders and agencies to distribute their digital campaigns, grow and monetise their audiences. ex
New Tools, New Rights, New Revenues